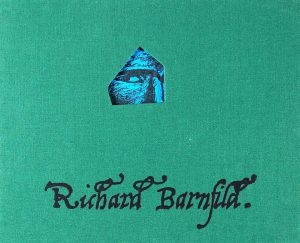 After a gap of three years, we were extremely happy to have completed our second publication with a text by the 16th century poet Richard Barnfield and with images by Clive Hicks-Jenkins.
This set of twenty powerful sonnets was published in 1595, a year later than The Affectionate Shepheard. We have again tried to make up, in some measure, for centuries of disregard and obscurity by offering them in a rich and pleasing way - with a generous format, lavishly substantial paper, an intriguing binding . . . to say nothing of a wonderful set of images by the artist.
Editions & Inscriptions
Copies of the Main Edition are Numbered and signed by the artist.
Perpetua type. 300gsm Somerset Printmaking paper. Two-colour images by Clive Hicks-Jenkins throughout the book together with those for the printed endpapers and the case binding. The slipcase is blocked with an enlargement of the poet's signature and has a 'spyhole' through which part of the cover can be seen.
Sonnets
Published in 2001
48 pp.
225 x 280 mm
Editions & Availability
200 copies were printed of the Main Edition and copies are available to buy at £275 each.
Special Editions are not available.
Purchase Enquiry
If you would like to purchase this book, please contact us, letting us know which edition you are interested in and your address.
Media Notes