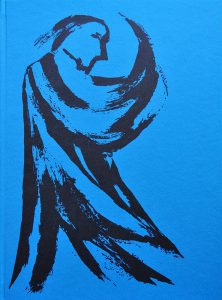 from Afterword by Natalie d'Arbeloff
Although these drawings were made more than half a century ago, the idea that they might be made into a book is less than a year old as I write and the texts and references and introductory pieces have been researched and written during that time. I was an art student in New York City when I dipped a brush in Indian ink and these drawings emerged in quick succession. What I remember most clearly about that period is a sense of freedom and excitement.

Abstract expressionism was in the air and I was for a while studying with Jack Tworkov, one of its leading practitioners, in his studio next door to De Kooning. I'm not sure if these painters' intense commitment to the spontaneous gesture was an influence but I did show the drawings to Tworkov and was very proud when he praised them unconditionally, even though my subject matter was not the sort of thing which would appeal to anyone in that secular, intellectual, bohemian milieu.
Editions & Inscriptions
Copies of the Main Edition are Signed and numbered by the artist.
Paper is Vélin Arches Blanc 200gsm. Type is Aries printed in grey and blue. Images printed in black from the original drawings with the aid of photopolymer plates. Full colour frontispiece by the artist, laser printed on handmade paper. Cover image printed on blue Tiziano paper. Designed and printed at The Old Stile Press and bound by The Fine Bookbindery, Wellingborough.
Scenes from the life of Jesus
Published in 2011
56 pp.
320 x 230 mm
Editions & Availability
60 copies were printed of the Main Edition and copies are available to buy at £110 each.
ISBN: 978-0-907664-86-4
Special Editions are not available.
Purchase Enquiry
If you would like to purchase this book, please contact us, letting us know which edition you are interested in and your address.
Media Notes