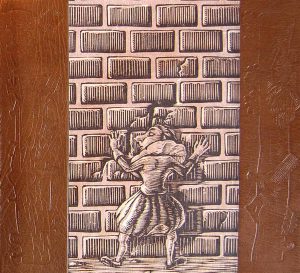 distilled from the pages of A Midsummer Night's Dream by William Shakespeare chiaroscuro woodcuts by Chris Nurse
The somewhat irreverent decision to make a book out of just the 'play within a play' so that the 'rude mechanicals' could literally take centre stage, has here given rise to a suite of masterly relief prints. In a recent essay about the work of Chris Nurse, Ann Jones, a curator at the Hayward Gallery wrote, of these images: They are, however, not really illustrations in the conventional sense. Although they are clearly inspired by the richness of the text, like the best artists' books, they capture a parallel vision. They convey the atmosphere and complexity of the written word, rather than illustrating it literally.
Chris Nurse writes: The project draws together many earlier preoccupations and influences; the tradition of the grotesque, carnival and folkloric rites that make light of sex and death. It is always preferable to first learn of death through the loss of a guinea pig or goldfish.
Editions & Inscriptions
Copies of the Main Edition are Numbered and signed by the artist.
The type is Bulmer. The paper is 250gsm Somerset Printmaking. All the images, single- and two-colour, are woodcuts by Chris Nurse and were printed from the wood. The book is half-bound in brown leather with heavy boards covered with printed papers with designs by the artist. Further designs, together with titling, are blind-blocked on the leather.
Pyramus and Thisbe
Published in 2004
64 pp.
250 x 280 mm
Editions & Availability
160 copies were printed of the Main Edition and copies are available to buy at £355 each.
ISBN: 978-0-907664-63-5
Special Editions are not available.
Purchase Enquiry
If you would like to purchase this book, please contact us, letting us know which edition you are interested in and your address.
Media Notes