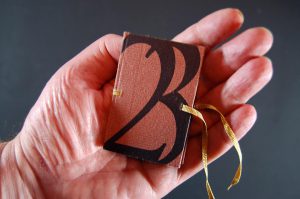 Apart from my love of these texts, the idea for this book grew from a desire to experiment with an idea for giving the 'appearance' of text printed in rich black on pages covered in gold leaf. Also, ever since first seeing delicious samples of printing by Fournier, I have been fascinated by the idea of large type disposed upon tiny pages. Each of these psalms begins at one end of the book and has its own cover design, titlepage and typographical style.
Editions & Inscriptions
Copies of the Main Edition are Numbered copies
Bulmer types. Book designed and printed by Nicolas McDowall. Printed endpapers plus a leaf of Himalayan paper in a cased binding by The Fine Bindery using paper designed and printed at The Old Stile Press. Gold blocked spine lettering and gold ribbon laced through.
Psalms 23 & 150
Published in 2000
32 pp.
73 x 50 mm
Editions & Availability
200 copies were printed of the Main Edition and copies are available to buy at £50 each.
Special Editions are not available.
Purchase Enquiry
If you would like to purchase this book, please contact us, letting us know which edition you are interested in and your address.
Media Notes