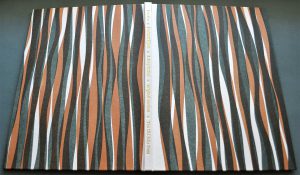 The complete copper engravings for Procreant Hymn by E. Powys Mathers Original and Alternative versions
When, in 1926, Procreant Hymn, by E. Powys Mathers (1892-1939), was published by Robert Gibbings at The Golden Cockerel Press, there were printed 175 numbered copies for sale with a further 25 copies for presentation. There was also a notice, loosely inserted at the end of the book, which stated 'Subscribers may be interested to know that three alternative designs have been engraved for this book and may be obtained separately from the artist'.
In the publication there are five images, all copper engravings by Eric Gill. These are known to be titled God Sending, Earth Waiting, Earth Inviting, Dalliance and Earth Receiving – although the titles are not printed in the book. As advertised in the notice, Gill made alternative plates, although there were actually four of these rather than three. They basically follow the composition of the published versions but the male and female figures, already naked in the published versions, are presented in a state of realism which would clearly have been unexpected (and, in many quarters, unacceptable) at that time.
We at The Old Stile Press have been entrusted with all the copper plates that Eric Gill engraved for this book and we have decided that the most interesting form in which we can make them available to book collectors, is to provide two complete copies of the book – one following the model of the Golden Cockerel book (now hard to track down and expensive) with the other breaking completely new ground by substituting the alternative plates to produce a book that has never been seen before.
Our books follow the pagination of the Golden Cockerel book but uses a much larger page and, importantly we think, are set in Aries, a beautiful and little-known typeface designed by Eric Gill himself.
Editions & Inscriptions
This Old Stile Press edition of Procreant Hymn was prepared and printed during the winter months of 2010. Nicolas McDowall designed the publication, set and printed the type. The intaglio printing, directly from Eric Gill's copper plates, was by Martyn Grimmer, Masterprinter at Spike Print in Bristol. The paper is 200gsm Vélin Arches Blanc and the type is Aries. The binding was by The Fine Book Bindery and incorporates patterned papers designed and printed by Nicolas McDowall. The edition consists of separate copies of the book in its two distinct forms, housed together in a lined slipcase.
Procreant Hymn
Published in 2010
Editions & Availability
60 (plus 15 copies hors commerce) copies were printed of the Main Edition at £950 each.
The Main Edition is no longer available.
and copies are available to purchase
Purchase Enquiry
If you would like to purchase this book, please contact us, letting us know which edition you are interested in and your address.
Media Notes