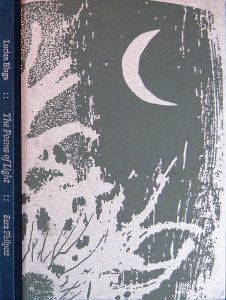 Lucian Blaga (1895-1961) is one of the most important of Romanian poets.
The Poems of Light (published in 1916) was his first collection, the work of a brilliant young poet/philosopher steeped in all the elements of the expressionist movement. Much influenced by expressionist painting, especially that of Van Gogh, the poet paints fiery landscapes seen through the interior eye.The 'translator/poet' team worked closely together on this true 'labour of love'.
For each poem a literal translation from the original Romanian was slowly worked into a poem in English, with the poet finding a structure and rhythm that evolved from his understanding and response to reading Blaga.
Sara Philpott is well-known to The Old Stile Press from her fascinating etched linocuts in Lens of Crystal by Robin Skelton. Her images here are a powerful mixture of drawing, monotype and collage and resonate perfectly with the atmosphere and moods of the poems. This book is by no means the outcome of some academic or intellectual exercise.
These poems are youthful and fiery and full of original imagery. Supported by this set of rich and challenging images, readers with any interest in early twentieth century poetry are in for a really exciting treat.
Editions & Inscriptions
Copies of the Main Edition are Signed by translator, poet and artist.
175gsm Zerkall mould-made paper. Octavian type, computer-set and printed in dark blue ink from photopolymer line blocks with collage drawings by Sara Philpott, printed in black. Cased binding with cloth spine blocked in silver and boards covered with papers printed with designs by the artist.
Poems of Light
Published in 2002
64 pp.
265 x 193 mm
Editions & Availability
200 copies were printed of the Main Edition and copies are available to buy at £130 each.
ISBN: 978-0-907664-60-4
Special Editions are not available.
Purchase Enquiry
If you would like to purchase this book, please contact us, letting us know which edition you are interested in and your address.
Media Notes