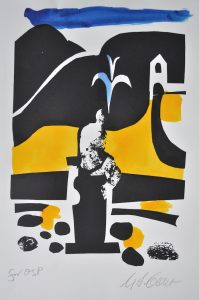 For the third of our artist/poem ventures we are most grateful to Gwen Watkins for permission and encouragement to re-present one of Vernon Watkins' most lovely poems, Peace in the Welsh Hills and for writing an Afterword about the context in which her husband came to write these lines.
Gwen Watkins writes of the weather used as a metaphor for war-torn Europe - ravaged landscapes may recover after a storm but though Birds preen their wings, and irises revive. Not so the cities burnt alive with fire Of man's destruction . . . the poet mourns for what has been lost from the Europe that he knew and loved before the War. In spite of its title the poem could have been called Peace in Shattered Europe. To live entwined in pastoral loveliness May rest the eyes, throw pictures on the mind . . . A fountain plays, and through a cherub's mouth Ages are linked by water in the sunlight.
Glenys Cour has painted every day of her long life and continues to do so. She has long been a great inspiration to us at The Old Stile Press and, in earlier days, her books Taliesin and the Mockers and Black Marigolds were a joy to work on and very well received. [Click titles to move to website]
Editions & Inscriptions
Copies of the Main Edition are signed by Glenys Cour
Nine hand-coloured prints on Somerset Bookwove each signed.Folded sheet of blue Bugra Butten with a verse of the poem faces the image. Afterword and Colophon. Held in gold paper portfolio. Typeface: La Gioconda.Dropback box covered in pale green cloth lined with grey velvet. Bound at The Fine Book Bindery.
Peace in the Welsh Hills
Published in 2018
54 pp.
370x260mm
Editions & Availability
26 lettered copies A-Z copies were printed of the Main Edition and copies are available to buy at £850 each.
and copies are available to purchase
Purchase Enquiry
If you would like to purchase this book, please contact us, letting us know which edition you are interested in and your address.
Media Notes