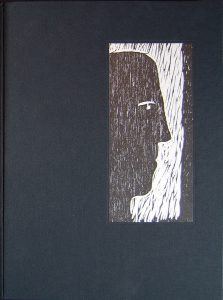 The two elements which make up this dramatic production came from quite different directions and owe their linking entirely to a decision by us as publishers.
We took a text which had become important to us and we caused it to appear alongside a freshly made set of images. We had a conviction that each would enhance and spark off the other - even though the poems have existed for many years and the artist was invited to cut the series of blocks without any reference to the text. W. S. Graham's poetic voice is one of the strongest of the post-war years.
Since we first saw his work in Glasgow, we have also been highly impressed by the images of Douglas Thomson. Paintings, very large to quite small, coloured monotypes and uncompromisingly black and white woodcuts - all depicted figures (often heads only) and all shared an amazing power to haunt.
Editions & Inscriptions
Copies of the Main Edition are Signed by the artist.
Handset Albertus and Othello type. Printed on Arches paper on a FAG Control 900 press. 16 woodcuts printed from the wood. Case covered in black rough weave cloth with inlaid detail from one of the blocks on the upper cover. Grey spine titling. Slipcase covered in paper decorated by Nicolas McDowall.
Letters and Heads
Published in 1993
72 pp.
385 x 280 mm
Editions & Availability
125 copies were printed of the Main Edition and copies are available to buy at £250 each.
ISBN: 978-0-907664-37-6
Special Editions are not available.
Purchase Enquiry
If you would like to purchase this book, please contact us, letting us know which edition you are interested in and your address.
Media Notes