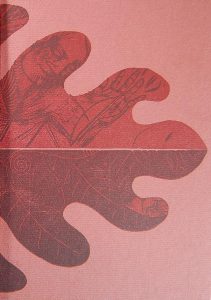 Robin Skelton, a poet published and read on both sides of the Atlantic, was for many years a Professor of English -- of literature and of creative writing.
In Lens of Crystal, he explores (partly as an act of homage to his own Celtic ancestry) the beautiful and ingenious verse forms of medieval Wales. These developed from the sixth century onwards but were codified, for the Bardic contests of the Eisteddfods, from 1330. In responding to the challenge of using each of the twenty-four forms, in poems written in English, Robin Skelton offers consummate mastery of them. He has also written poems of intense beauty.
Sara Philpott has responded to the timeless in the poems by etching and cutting in lino images which often evoke the sun, wind and rain beating on a Welsh mountain and on the people who work and live and love there. There are mysterious textures, shapes appear as though from a mist . . . the elements are all-enveloping.
Editions & Inscriptions
Bembo and Nicolas Cochin type, hand and computer set. Printed on paper from a special making of Zerkall mould-made, on a FAG Control 900 press. 37 images etched and cut on linoleum. Case covered in terracotta Bugra Butten paper with a two colour linocut. Slipcase covered in stone coloured Bugra Butten paper with linocut printed in white.
Lens of Crystal
Published in 1996
80 pp.
270 x 192 mm
Editions & Availability
and copies are available to buy at £130 each.
ISBN: 978-0-907664-39-0
Special Editions are not available.
Purchase Enquiry
If you would like to purchase this book, please contact us, letting us know which edition you are interested in and your address.
Media Notes