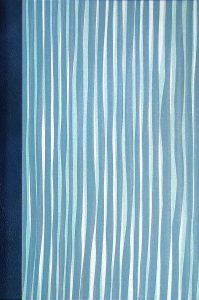 text selected by Nicolas McDowall, who also took the photographs and wrote the Preface
Latin Memories is the latest of Nicolas' solo excursions. Like The Paradise Driver and The Wall in Wales it involves a contemplation of outside phenomena and the working of a mind.
The book also experiments with techniques new to us. One aspect of the book consists of fourteen photographs of rich colour and considerable beauty (inkjet printed on handmade paper and tipped into the book) which look somewhat like canvases by an abstract artist but were in fact found in very different circumstances.
The text element in this imposing and elegant book consists of paragraphs from The Public School Latin Primer so well-remembered by schoolboys of a generation now becoming somewhat antique. The reason why the Gender Rhymes and other wonders from the Primer should receive such lavish and loving setting are related and examined by Nicolas in his Preface. There he remembers his twelve-year old self seeking to find out about life by studying the Latins, a people who seemed to exist nowhere but within Canon Kennedy's Latin Primer.
Editions & Inscriptions
Copies of the Main Edition are Numbered and signed.
Bulmer type. Text paper is Hahnemuhle Bugra Butten. The photographs are printed on paper handmade in the 1940s from an unknown Mill. The case binding has a leather spine and the boards are covered with a patterned paper designed and printed by Nicolas McDowall.
Latin Memories
Published in 2005
64 pp.
372 x 255 mm
Editions & Availability
45 copies were printed of the Main Edition and copies are available to buy at £175 each.
ISBN: 978-0-907664-71-0
Special Editions are not available.
Purchase Enquiry
If you would like to purchase this book, please contact us, letting us know which edition you are interested in and your address.
Media Notes