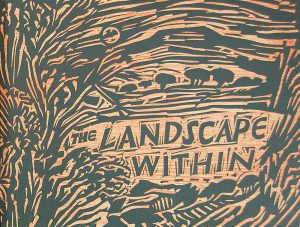 Book & Portfolio of prints within slipcase. This is an artists' exploration, in words and strong, dramatic images, of the particular and personal vision that not only generates his creative power but also provides the subject matter for his works of art and usually dictates the physical form in which they will appear. For Bert Isaac, well-known as a watercolourist as well as a printmaker, the elements that have gone most deeply towards the formation of his 'landscape within' are the abandoned slate quarries of Wales and the sea, with its edges and boundaries. He examines these elements of his childhood memory in this work, along with thoughts about earlier artists and about printmaking techniques.
Editions & Inscriptions
Copies of the Main Edition are Signed by the artist.
The fifteen relief prints are cut on wood, lino and masonite. Each print is titled and signed and is presented separately in a folder and then housed in a portfolio. This in turn slides into a box which also houses the accompanying book.
The Landscape Within
Published in 1991
48 pp.
265 x 410mm
Editions & Availability
100 copies were printed of the Main Edition and copies are available to buy at £395 each.
ISBN: 978-0-907664-26-0
Special Editions are not available.
Purchase Enquiry
If you would like to purchase this book, please contact us, letting us know which edition you are interested in and your address.
Media Notes