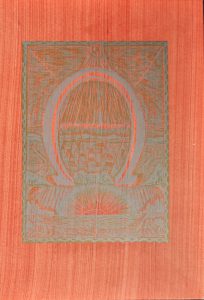 by Christopher Smart. Woodcut and linocut images and an Afterword by Angela Lemaire.
Christopher Smart (1722-1771) was a major poet of great learning. Fascinated by the occult and the supernatural and Freemasonry, his poetry ranged over subjects which earned him a reputation of being mad.
The Jubilate Agno is an edition of 'Kit' Smart's wild and wonderful hymn of yearning and adoration for Creation in all its multifarious detail. It expresses his exuberance and overflows with his enthusiasms and blessings. He began writing this work in 1759 when his 'wild behaviour' (which now we might call a nervous breakdown) had caused him to be locked up in St Luke's Hospital for the Insane. In his praise of all Creation he lists people, animals, birds, insects, fish, all of whom are blessed.
His knowledge of the natural world is encyclopaedic and nothing is omitted! A section of it provides the text for Benjamin Britten's Rejoice in the Lamb - a cantata which will be familiar to many if only for the music about 'my cat Jeoffry'. Angela Lemaire writes that she sees Smart, in one particular woodcut in the book, as a singing bird glimpsed through the obstructing branches of a tree.' She expands on this: 'He has played with sounds and rhymes and rhythms and through this he has found unseen forces and told us about them' and quotes Smart: 'For in my nature I quested for beauty, but God, God hath sent me to sea for pearls . . . For my talent is to give an Impression upon words by punching, that when the reader casts his eye upon 'em, he takes up the image from the mould I have made.'
The book came about after a wonderful encounter by us with a copy of the Gutenberg Bible and it can be said that the design, the imagery, the palette of rich colours were all influenced strongly by that early masterpiece of printing with moveable type which was enhanced by the decorations of scribes.
There are woodcuts and linocuts throughout our text, some are printed in more than one colour, some in a single colour; there are initial capitals among the pages arranged in two columns, all to pay tribute to the design of Gutenberg.
Editions & Inscriptions
Copies of the Main Edition are Numbered and signed by the artist.
Copies of the Special Edition are hand coloured by Angela Lemaire. The binding on these ten copies is the same as the main edition but it is housed in a lined solander box.
Paper is 225gsm Vélin Arches. Type is Truesdell. Woodcut and linocuts printed directly from the blocks cut by Angela Lemaire. Seven different colours of ink are employed in the printing. The book is bound with a suede spine and its sides are covered in terracotta paste papers printed in gold and silver designed by Nicolas McDowall using Angela Lemaire's blocks. For the main edition there is a slipcase lined with suede and a printed label of 'my cat Jeoffry'.
Jubilate Agno
Published in 2012
72 pp.
380 x 290 mm
Editions & Availability
100 copies were printed of the Main Edition and copies are available to buy at £340 each.
ISBN: 978-0-907664-88-8
Only 10 copies were printed of the Special Edition at £1250 each.
Special Editions are not available.
Purchase Enquiry
If you would like to purchase this book, please contact us, letting us know which edition you are interested in and your address.
Media Notes