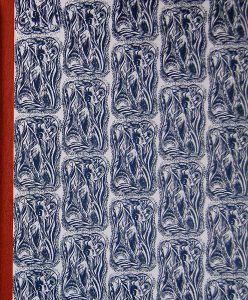 The seventeenth century writings of Thomas Traherne lay largely unknown until they were re-discovered early in the twentieth century. The writing is celebrated today for its rapture and delight in nature and its luminous, visionary quality but he also wrote of darkness and struggle.
Angela Lemaire has chosen passages which speak of the search for the pure vision of infancy -- that vision which encompasses all things, the depths and the heights. She has responded with images engraved in wood which display the interconnections between everything within the universe. The eternity within us responds to the eternity of nature, life and others.
Text and images are all held within borders which reiterate this joy in all that surrounds us.
There is a small hand coloured edition which is filled with light and sunshine intensifying the artistís vision.
Editions & Inscriptions
Copies of the Main Edition are Signed by the artist
Copies of the Special Edition are Signed by the artist. Angela Lemaire has hand-coloured every image that appears in the book. The binding is quarter-leather with the artist's printed paper sides. The book is housed in a drop-back box covered with linen-weave cloth and with a deep blue velvety lining. The woodcut recessed into the front of the box has also been hand-coloured.
The paper is from a Zerkall special making. Type is Truesdell. Images are 9 wood engravings (printed in dark blue), 5 woodcuts (in burnt sienna), linocut borders (in sage). All are printed from the original blocks. The binding, by The Fine Bindery, Wellingborough has a burnt sienna cloth spine with sides covered in printed paper designed by Angela Lemaire, silver blocking on spine. Slipcase covered in linen with a recessed wood engraved image.
Joys
Published in 2004
48 pp.
254 x 220 mm
Editions & Availability
200 copies were printed of the Main Edition and copies are available to buy at £130 each.
ISBN: 978-0-907664-66-6
Only 26 copies were printed of the Special Edition at £395 each.
Special Editions are not available.
Purchase Enquiry
If you would like to purchase this book, please contact us, letting us know which edition you are interested in and your address.
Media Notes