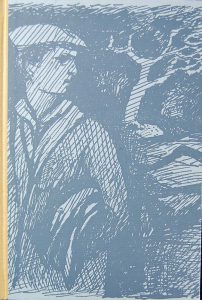 a selection of poems by Dafydd ap Gwilym
We have a life-long love for the mystical, pastoral school of painting that flowered so richly in Samuel Palmer's Valley of Vision and which erupted again in the neo-romantic paintings and book illustrations of the 40s, 50s, and 60s.
For years we had enjoyed the energy of John Elwyn's neo-romantic vision in painting and knew that he also enjoyed the illustration of books. There was, however, a particularly exciting moment when we encountered some of his early drawings at the same time as we were reading the poetry of Dafydd ap Gwilym. We knew that we had to try to link the two.
It transpired that John Elwyn did indeed have a great love for the Welsh poet - whom he read in Welsh - and was eager to work on images that reflected the timelessness of the poetic subjects of love and the natural world, to bridge the gap from mediaeval words to twentieth century images.
The song thrush, the skylark, and the cuckoo; the wind as one of many messengers of love, the seasons and, above all, the 'leafy hut' which the poet builds for meetings with his love - are described in immediate but timeless words by the poet in the 1350s and echoed by the artist in the late twentieth century. Little seems to change!
Editions & Inscriptions
Copies of the Main Edition are Signed by the artist.
Garamond type. Printed on Zerkall cream mould-made paper on a FAG Control 900 press. 30 line drawings reproduced from lineblocks and printed in grey. Natural cloth spine, titled in black. Boards covered in pale blue laid paper, printed in grey with illustrations by the artist. Head colour-washed grey. Slipcase covered in blue cloth with printed illustration by the artist laid in a recessed panel.
Houses of Leaves
Published in 1993
62 pp.
265mm x 173mm
Editions & Availability
250 copies were printed of the Main Edition and copies are available to buy at £110 each.
ISBN: 978-0-907664-31-4
Special Editions are not available.
Purchase Enquiry
If you would like to purchase this book, please contact us, letting us know which edition you are interested in and your address.
Media Notes