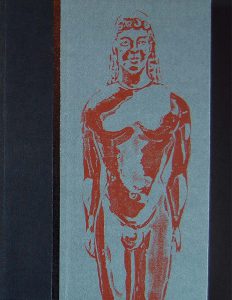 Perched on a cliff that towers a thousand windy feet above the southern Aegean stood the ancient city of Thera. First among the sanctuaries and temples of the city was that of Apollo Karneios and in the middle of the month Karneios (August-September) the Karneia took place - the solemn and important festival introduced from Sparta.
At the height of the festivities and when the moon was full, were the Gymnopaediae. On a specially dedicated square, close by the cliff edge, and watched by the citizens (some of whom were moved to express their feelings in graffiti which are still visible in the stones) naked boys danced and sang paeans to the patron of the palaestra, Apollo Kourotrophos, Apollo the 'boy-raiser'.
The beauty of movement and form that would have been seen on these occasions is here imagined by Martin Pitts in a swirling sequence of linocut images.
Editions & Inscriptions
Copies of the Main Edition are Signed by the artist.
Joanna and Perpetua Light Titling type. Printed on Saunders HP mould-made paper on a Victoria platen press. Linocuts throughout, printed from the lino blocks, in black except for the figure on the title-page which is printed in sepia. Quarter black cloth with blue Hahnemuhle Ingres paper covered boards printed in sepia with an image of a kouros, spine titling blocked in black. Slipcase covered with natural cloth, printed in terracotta with overall pattern of figures.
Gymnopaediae
Published in 1989
80 pp.
285 x 190mm (11.2 x 7.5in)
Editions & Availability
220 copies were printed of the Main Edition and copies are available to buy at £95 each.
ISBN: 978-0-907664-22-2
Special Editions are not available.
Purchase Enquiry
If you would like to purchase this book, please contact us, letting us know which edition you are interested in and your address.
Media Notes