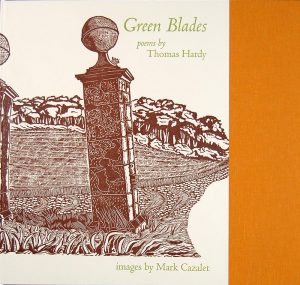 Thomas Hardy's wife Emma died in November 1912, in the attic room of their house where she had lived estranged from him. Their marriage had hardened into an empty shell and Hardy had long been in love with Florence Dugdale, whom he married the following year.
However, on reading Emma's secret memoirs detailing his cruelty and the breakdown of their marriage, Hardy was hit by an avalanche of grief. He returned to the north Cornish coast of their courtship and spent the rest of 1912 and 1913 producing his most lyrical and abiding collection of poetry.
Mark Cazalet has created images to act as visual equivalents for the extraordinary insights Hardy found in the depths of his experience, rather than attempting his topography or historical period. He arranged the sequence to suggest his gradual reconciliation to guilt and grief, resolving into a dawning sense of acceptance.
He was just completing the prints when Claire Tomalin's recent book Thomas Hardy, The Time-Torn Man was published. Green Blades - as we have titled this selection - reflects what Claire Tomalin calls the 'rediscovery of repressed sorrow and forgotten love'.
It was a long and painstaking task to cut wood and lino for the twenty-two large images and Mark was simultaneously working on huge murals, stained and engraved glass commissions and painting trips to Israel and Palestine for a magnificent series bringing stories from the Bible into the modern world.
Editions & Inscriptions
Copies of the Main Edition are Numbered and signed by the artist.
Copies of the Special Edition are Numbered I-X
Each page opening involves three colours on characterful Italian white paper, and the inks were specially mixed by Cranfield Colours from natural pigments. The binding has an image printed on the cover and then the book is enclosed by a folding cloth slipcase.
Green Blades
Published in 2007
48 pp.
330 x 350 mm
Editions & Availability
200 copies were printed of the Main Edition and copies are available to buy at £300 each.
ISBN: 978-0-907664-81-9
Only 10 copies were printed of the Special Edition at £650 each.
Special Editions are not available.
Purchase Enquiry
If you would like to purchase this book, please contact us, letting us know which edition you are interested in and your address.
Media Notes