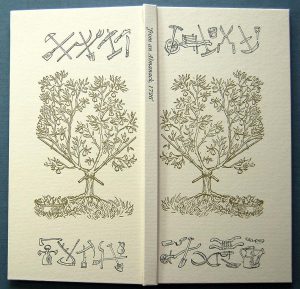 pen and ink drawings by Peter Reddick
A copy of this 'Almanack' (entitled British Merlin and billed as having been 'made and compiled for his Country's Benefit, by Cardanus Rider') has remained in Nicolas' family since the eighteenth century and, as a child, he was shown the special small, leather-bound book with a clasp housing a metal stylus to be used as a pencil to make notes on a specially stiffened page. There are delicious marbled paper pockets at each end and the pages are printed in black and red. The book was one of the inspirational spurs towards becoming a printer!
For this book, the 'Notes on Husbandry' sections (an important feature of the Almanack) have been reprinted with the advice for each month being printed alongside drawings made by Peter Reddick which wonderfully evoke the eighteenth century activities in the home and the estate - planting and pruning, sowing and harvesting and how to maintain the health of the family with physick and good sense.
Loosely inserted, is a leaflet which gives a full description of the original volume, with numerous photographs.
Editions & Inscriptions
Copies of the Main Edition are Numbered and signed by the artist.
The type is Bell and the paper 130gsm Hahnemuhle Old Antique Laid. The case binding is covered with printed paper with designs by Peter Reddick and completed at the Fine Book Bindery, Wellingborough
'from an Almanack, 1726'
Published in 2010
56 pp.
370 x 235 mm
Editions & Availability
150 copies were printed of the Main Edition and copies are available to buy at £85 each.
ISBN: 978-0-907664-84-0
Special Editions are not available.
Purchase Enquiry
If you would like to purchase this book, please contact us, letting us know which edition you are interested in and your address.
Media Notes