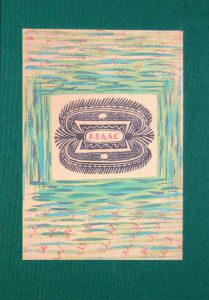 Jackets, title pages, illustrations made in the 1940s and 50s by Bert Isaac
Preface by Nicolas McDowall
We, at The Old Stile Press, were thrilled to be shown a recently rediscovered collection of book designs made in the 1940s by our good friend, the artist Bert Isaac, largely for his own pleasure as if he were fulfilling commissions such as he might have been given by publishers.
Immediately we began to wonder how these delightful works might be shared with others. Our final plan involved publishing a large format book in which more than twenty items are reproduced in colour and at full size. Nicolas McDowall has written a Preface about this fascinating period of book design that Bert Isaac was 'adding to'. The works are inkjet printed on separate sheets and tipped into the hardback book.
Editions & Inscriptions
Copies of the Main Edition are numbered and signed by the artist
Octavian type, with Klang for display, printed on Hahnemuhle Bugra Butten paper. 25 plates ink-jet printed in full colour on sheets of Dulcet Smooth and tipped in; six tail-pieces printed from photopolymer blocks. Casebound in full green cloth with printed paper label by the artist; printed label on spine; brick red endpapers. Bound by Salisbury Bookbinders, Pembrokeshire.
. . . for Books that never were
Published in 2006
56 pp.
374 x 260 mm
Editions & Availability
100 copies were printed of the Main Edition and copies are available to buy at £130 each.
ISBN: 978-0-907664-77-2
Special Editions are not available.
Purchase Enquiry
If you would like to purchase this book, please contact us, letting us know which edition you are interested in and your address.
Media Notes