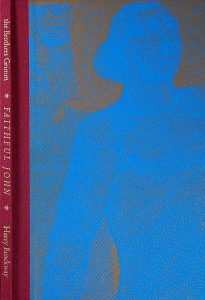 translated by Lucy Crane
Within the covers of Grimm's Household Tales lurk stories of peculiar power and perennial attraction. Despite the fact that many pantomime plots have been drawn from this source, children's stories most of them simply are not -- rather they offer material for endless reinterpretation and a feeling that hidden truths are there to be disinterred by the wise.
Faithful John is one of the best, most complicatedly wrought and, more than most, liberally filled with apparent parables. The three ravens who haunt the attempts of the young prince to woo the beautiful princess, the faithful servant whose selfless acts are misinterpreted to the point of his being executed, whereupon his lifeless body turns to stone and can only be redeemed by child sacrifice . . . which in turn is reversed by the power of faith. . . powerful and fascinating stuff.
Quite the stuff, too, to draw a set of incredibly powerful images from the engraving tools of Harry Brockway. They are made all the more powerful because of the demands made by the unusual shape of all except the frontispiece - 198x34mm.
Editions & Inscriptions
Copies of the Main Edition are signed by the artist.
Copies of the Special Edition are restricted to only 26 , lettered A-Z, which include a portfolio containing signed proofs of each of the wood engravings, printed by the artist on Japanese paper.
Centaur type, computer generated and printed from polymer blocks. Printed on a special making (175gsm) of Zerkall mould-made paper on a FAG Control 900 press. Frontispiece and 15 wood engravings printed from the wood. Image, derived from a wood engraving, is repeated on alternate openings, printed in blue. Maroon cloth spine with gilt spine titling. Bright blue paper sides overprinted in gold to produce images derived from the frontispiece. Slipcase covered in maroon cloth with recessed black on white image.
Faithful John
Published in 1998
34 pp.
270 x 175mm (10.6 x 6.8in)
Editions & Availability
220 copies were printed of the Main Edition and copies are available to buy at £130 each.
ISBN: 978-0-907664-43-7
Only 26 copies were printed of the Special Edition and copies are available to purchase at £395 each.
Purchase Enquiry
If you would like to purchase this book, please contact us, letting us know which edition you are interested in and your address.
Media Notes