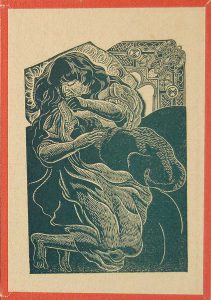 In this poem, written for one of his daughters, Kevin Crossley-Holland uses the metaphor of the lighting of each of four candles in an advent crown. Advent is a time of anticipation and of growing illumination. Each December day in the poem has a four-line stanza which tells of a new-found wonder in the child's world. As images to go beside these verses, Alyson MacNeill's engravings are a perfect response.
Editions & Inscriptions
Copies of the Main Edition are Signed by author and artist.
Bembo type, Monotype set. Title set in Union Pearl. Printed on a Zerkall rough mould-made paper on a FAG Control 900 press. 16 engravings, printed as fold-outs to the text pages. Boards covered in red paper printed in black with images by the artist. Endpapers paste-coloured and dutch-gilt by Frances and Nicolas McDowall, images by the artist. Slipcase covered in reddish cloth. Buff coloured paper sides printed in black with images taken from the text.
Eleanor's Advent
Published in 1992
32 pp.
200 x 135mm (7.9 x 5.3in)
Editions & Availability
225 copies were printed of the Main Edition and copies are available to buy at £55 each.
ISBN: 978-0-907664-36-9
Special Editions are not available.
Purchase Enquiry
If you would like to purchase this book, please contact us, letting us know which edition you are interested in and your address.
Media Notes