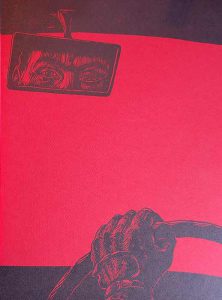 Libretto for the Opera in One Act by Béla Balázs
English performing version by John Lloyd Davies
The story of Bluebeard has a long history, from Perrault's Fairy Tales through Maeterlinck, and is deeply embedded in the dark storytelling of the early twentieth century. Béla Balázs, heavily influenced by the French Symbolists, wrote a play which inspired his fellow countryman Béla Bartók to create a truly Hungarian opera. The music and the libretto in their turn have drawn from Susan Adams a sequence of images. Each page evokes the unfolding pathos of the events that the walls of Duke Bluebeard's castle have witnessed.
The chilling story is of the young bride, Judith, brought to her new home by the Duke. She longs to fling open windows, to let sunlight flood into her castle but gradually she has to face the truth of what may have happened here -- the truth of the destroyed lives of three previous wives. There is structurally simple dialogue between the two, rendered into an English which is direct and accords with Bartok's stark musical lines. The imagery, however, reflects the complexity of emotion, the psychological shifts. Susan Adams writes 'if certain fearful realities are accessed through the maze of the imagination, at least it allows one to take on these realities'. She has cut large woodblocks allied with computer-generated line blocks to convey the overwhelming power struggle and Judith's progression towards understanding the man she has married and facing the reality of her own inevitable fate.
Susan Adams has a considerable reputation as a printmaker and has worked as artist in residence in the USA and in India as well as in Gloucester Cathedral, Bardsey Island, and Shaftesbury Abbey -- where her work reflects her empathy with the history of a place felt through its stones. Much of her achievement is concerned with the tensions of the realities represented by buildings and human bodies, their outside and inside, body and soul.
The libretto is the English version made by John Lloyd Davies for performances of the opera given by ENO, Scottish Opera, BBC Welsh SO and for a BBC recording. John Lloyd Davies is an opera and theatre director, designer and dramaturg with an international career spanning more than a hundred productions. His work has ranged from the Royal Opera House, Covent Garden, to Vienna, Copenhagen, Brussels, Dallas, Los Angeles, Graz and Nürnberg. He is a holder of the Josef Kainz Medal for contemporary opera work in Vienna, and has worked as dramaturg to Kasper Holten on the Royal Opera's recent new production of Szymanowski's Król Roger. Plans include returning to Vienna as Associate Director for Die Dreigroschenoper at Theater an der Wien.
Editions & Inscriptions
Copies of the Main Edition are signed by Susan Adams and John Lloyd Davies
The paper is BFK Rives, The type is Eric Gill's Joanna. 18 images (34x24cm) use two printmaking techniques, printing directly from woodblocks in black (with two in white) and digitally generated photopolymer line blocks, printed in red. The book is casebound and covered with red paper printed all over with a woodcut. The slipcase has grey sides again printed with images by Susan Adams. The binding is by The Fine Bindery, Wellingborough.
Duke Bluebeard's Castle
Published in 2006
56 pp.
374 x 285 mm
Editions & Availability
150 copies were printed of the Main Edition and copies are available to buy at £275 each.
ISBN: 978-0-907664-74-1
Special Editions are not available.
Purchase Enquiry
If you would like to purchase this book, please contact us, letting us know which edition you are interested in and your address.
Media Notes