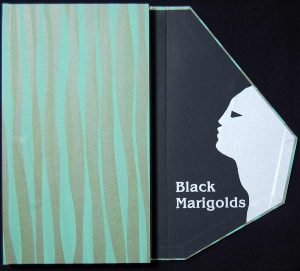 Rendered into English by E. Powys Mathers
Imagine a kingdom in the Himalayas around nineteen hundred years ago. A reckless young poet who lives at the court falls passionately in love with the king's daughter . . . King Sundava uncovers the secret and immediately flings Chauras, the poet, into a dungeon. Throughout the dark night before he is to be executed, the poet writes about his love for Vidya, remembering each moment of their times together in ecstatic verses. Even now . . . fifty times he sings of their love. This, then, is the nature of Black Marigolds.
The poem was written in Sanskrit but the verses were rendered into English by E. Powys Mathers in the early twentieth century and the poem was published in 1919 by Blackwell. It became as iconic as the poetry of Arthur Waley and Ezra Pound. Vernon Watkins regarded Black Marigolds as the most beautiful love poetry he knew and the poet's widow, Gwen, here writes a Preface.
It was Vernon Watkins' own poem Taliesin and the Mockers that brought The Old Stile Press together with Gwen Watkins and with Glenys Cour who did the magnificent images.
Again for this book, Glenys Cour has used her techniques of collage, involving the use of black and white papers, some starkly contrasting, some with patterned, textured effects achieved with monotype and stippling. Bringing these together she creates an intense world filled with moonlight, flowers, courtyards with fountains and the sun disappearing into the sea . . . as the poet remembers the times when Vidya was beside him.The book is covered all over with a gently rippling green and grey patterned paper, and the binding has an enfolding flap presenting the reader with an image of Vidya which can be ever present as you read Chauras' poems.
Editions & Inscriptions
Copies of the Main Edition are Signed by the artist.
The text paper is a special making of Zerkall and the type is Benguiat. The Collage images were printed by way of line blocks. The binding, together with all the printed papers, was designed at The Old Stile Press and executed at Fine Bookbinders Ltd.
Black Marigolds
Published in 2007
72 pp.
310 x 320mm (12.2 x 12.8in)
Editions & Availability
200 copies were printed of the Main Edition and copies are available to buy at £130 each.
ISBN: 978-0-907664-79-6
Special Editions are not available.
Purchase Enquiry
If you would like to purchase this book, please contact us, letting us know which edition you are interested in and your address.
Media Notes