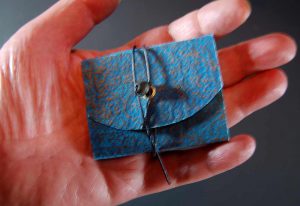 Calligraphy by Nigel Cann
Apart from my writing these little poems about the beloved river that flows through the domain in which we live and work, the elements that came together at the birth of this book included a desire to see a tiny book bound in the Japanese style and to have an outer wrapper for such a book created and constructed by the two of us, involving paper made by Frances. The Blado type is balanced by calligraphed titling commissioned from Nigel Cann.
Editions & Inscriptions
Copies of the Main Edition are Signed by the author.
Blado type. Printed in light brown ink on Simili Japon. Bound, in the Japanese style, with covers of Himalayan paper. Wrapper, from paper made by Frances McDowall, incorporates black thonging and a bead.
Be Still. . . twelve haiku from the valley of the Wye
Published in 2000
32 pp.
56 x 72mm (2.2 x 2.8in) Miniature Book
Editions & Availability
200 copies were printed of the Main Edition at £50 each.
The Main Edition is no longer available.
Special Editions are not available.
Purchase Enquiry
If you would like to purchase this book, please contact us, letting us know which edition you are interested in and your address.
Media Notes