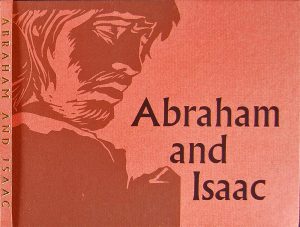 from the Chester Mystery Plays
Mediaeval Mystery Plays wove into dramatic form many of the strongest and most elemental stories in the Bible. Here, the mounting anguish of Abraham, commanded by God to sacrifice his only son, is answered by Isaac's innocent, hardly questioning obedience.
Benjamin Britten was moved to write music for two voices that weave with unbearable poignancy towards an apparently inevitable horror, until God's reprieving voice intervenes. It was while listening to a recording of this Church Canticle that the shape and structure of this book leapt to mind ­ facing pages with Martin Pitts' powerful linocuts would demonstrate the confrontation between father and son ­ between God and man . . .
Editions & Inscriptions
Copies of the Main Edition are Signed by the artist.
Albertus type. The paper is Hahnemühle Ingres, french-folded and printed on one side only. Linocut images throughout. The case binding is covered overall with Bugra Butten paper, printed with type and images by J. Martin Pitts. The spine is blocked in gold.
Abraham and Isaac
Published in 1999
40 pp.
250 x 320mm (10 x 12.8in)
Editions & Availability
220 copies were printed of the Main Edition and copies are available to buy at £85 each.
ISBN: 978-0-907664-48-2
Special Editions are not available.
Purchase Enquiry
If you would like to purchase this book, please contact us, letting us know which edition you are interested in and your address.
Media Notes